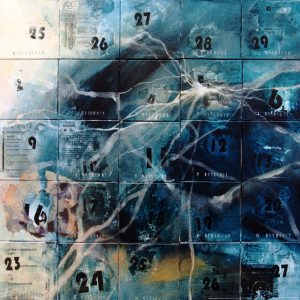 https://www.oho.at/programm/blockchain-my-heart-nfts
OHO: Blockchain My Heart Art Action
A total of 48 artists from Burgenland, Austria connected or chained their works in an artistic action under the slogan "Blockchain My Heart".  First, 16 visual artists created paintings 50 x 50 cm,  than 16 literary artists wrote on its artworks, and finally 16 musicians set the texts to music or wrote compositions on the artworks.  The manager of OHO, director Peter Wagner, was a creator of this project.
All "Blockchain My Heart" artworks are available as NFTs in the blockchain. NFT stands for "Non-Fungible-Token". These are digitally stored objects that cannot be replaced, but have unique information and are, so to speak, connected by chains.
BILDENDE KUNST: Andreas Dworak, Maja Erdeljanin, Wolfgang Horwath, Cornelia König, Florian Lang, Andreas Lehner, Manfred Leirer, Ilse Lichtenberger, Elke Mischling, Andrea Ochsenhofer, John Petschinger, Michaela Putz, Eveline Rabold, Johannes Ramsauer, Georg Vinokic, Hans Wetzelsdorfer
LITERATUR: Gerhard Altmann, Klaus Jürgen Bauer, Theodora Bauer, Clemens Berger, Raoul Eisele, Michaela Frühstück, Karin Ivancsics, Heinz Janisch, Siegmund Kleinl, Reinhold Konzett-Stumpf, Wolfgang Millendorfer, Petra Piuk, Günter Schütter, Elke Steiner, Susanne Toth, Konstantin Milena Vlasich
MUSIK: Sophie Abraham, Marco Blascetta, Dominik Hofstädter, Eros Kadaver, Alex Karazman, Justin Kodnar, Hannes Laszakovits, Bozana Meidl-Brajic, Mirjam Mikacs, Thomas Maria Monetti, Rainer Paul, Sophie Reyer, Scarabeus Dream, Wilhelm Spuller, Petra Stump-Linshalm, Nikola Zeichmann
The art campaign Blockchain My Heart, modeled on the chain shape of a blockchain, combines several areas of art, starting with exhibits of fine art on the keyword heart.
16 artists were invited to create exhibits on the subject, 16 writers added a text of 30 to a maximum of 55 seconds to each image in the form of a self-made video. 16 musicians/composers responded to either the image or the text or both with a musical contribution of the same length. The three works were then combined by Peter Wagner into a video.
All contributions will be presented to the public for the first time on October 7th, 2022, in a separate production. The works of the visual artists as well as the writers and musicians can be viewed from October 7th. available as NFTs on a blockchain. Much of the work is given away. The video works, in which all three works are combined, will be sold. With a purchase you support the artists, the OHO and also the Sozialmark Oberwart.
The link to Open Sea, the platform on which the NFTs are made available, here >> or at the top right under "OPEN SEA"