Gallery Meandar: Museum of Contemporary Art of Vojvodina
Exhibition opening: Friday, October 13th, 2023 at 7 pm
Duration: October 13th – November 5th 2023
Curator: Vladimir Mitrović
Maja Erdeljanin began her Dear Diary cycle in 2006. Today it has more than 480 works. She had created the first 418 works by 2020. By then, every calendar date got at least one of her artworks – 24 x 30 cm, symbolizing 24 hours x 30 days in a month. The rest of them were bigger. All the works contain a collaged or printed calendar date and are ordered in a monthly calendar fashion, from the first to the last day of the month. Every work has a corresponding legend containing information about the international and the author's Awareness Days, which were the starting point for the Dear Diary cycle. She was creating on canvas or paper continually for 17 years, often using recycled paintings from her exhibitions with different concepts.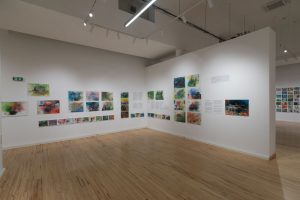 The works were subsequently painted following the themes related to a particular day. They were also collaged with copied book pages, newspaper articles, paid bills, museum or cinema tickets, and flyers, which all symbolize information that the society temporarily provides her system with every day.
This project marks the first time after 50 years that the MCAV has published a catalog covering both visual arts and literature.
While working on this cycle, Maja wrote short stories inspired by the same idea. Therefore, the exhibition catalog is also a collection of short stories ordered by dates in the same manner as the paintings. However, what is described in the paintings is not contained in the stories and vice versa. The artist emphasizes that the stories thematically only hint at the main title but are unrelated to the paintings.
An artistic and literary journey through space and time, personal events, and general dates constitutes a wide framework of Dear Diary. Thematically, the Diary deals with everyday life (daily routines), longer and shorter travels, homages to fellow painters, etc. True to her style, the artist intervenes on canvases using color explosions and bursts. Maja's painted notes are persistently and consistently laid out as if belonging to a huge artistic cycle. Everything is underlined with literary notes and moving pictures in short videos, following the author's mood and current inspiration.
Author workshop for children: Saturday and Sunday / October 21 and 29, 2023 / 10.00-12.00
Guided tour: Friday / October 20, 2023 / 13.00
Book/catalog promotion: Friday / October 27, 2023 / 19.00
Speaking: Sandra Urban and Vladimir Mitrović